Sardinia is unique in the Mediterranean for its environmental, geological, biological characteristics, its natural landscapes with a spectacular coast and inland relief morphology, the underground hollows and the archaeological areas that, with their variety and importance, turn it into a small, but whole continent.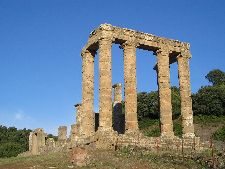 Mining activity has modelled the landscape and the ancient culture of the mining populations creating an atmosphere in which the visitors are accompanied by the smell of history among the wonderful marks of industrial archaeology, in underground worlds and in contact with the wonderful Sardinian nature.
Enchanting working class villages, extraction pits, thousand kilometres of galleries, industrial systems, old railway station, important records and the memory of generations of miners turn this Park into a new large cultural deposit to be discovered.
Not only mankind's works, but also places where the majestic nature enraptures the visitors with the wonderful cliffs and the hard stacks plunging vertically into the sea, infinite and almost desert golden sand expanses, the "magic" carsic caves, the wild forests witch a large variety of animal species surrounded by the blue sea of Sardinia.
In October 1997 in Paris, UNESCO's general assembly declared that the Geomineral Historic and Environmental Park of Sardinia was "the first Park in the geosite-geopark world net".
The 8 areas of the Park, with their overall 3,500 square kilometres, turns it into one of the largest and heterogeneous national parks in Italy.
A lot is being done to offer its visitors a new and interesting aspect of this wonderful island. From the unique and particular examples of mining engineering such as Porto Flavia, Henry gallery and other numerous tunnels that today hold museum to the Italian Centre of Coal Culture and Saint Barbara's Cave.
Tourist will find a historic and environmental geomineral museum unique in the world, where they can trace 8 thousand years of mining history, in which different peoples searching for minerals followed one another leaving indelible marks of a fascinating culture.