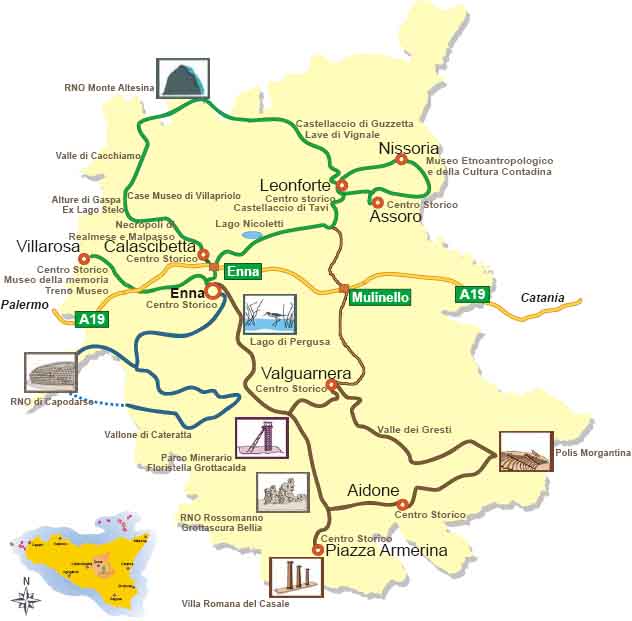 The European Geopark "Rocca di Cerere", was established in the middle of Sicily in 2001. It is a rich environment with the largest part being the "chalk-sulphur" plateau, and the quarzarenitic peaks of the Flysch Nu-midic region where, since the Palaeolithic ages, the inhabitants sculpture the landscapes with their daily toils. Farmers, shepherds, miners, warriors, paupers and kings, women and men, are all here. All these lives are still in every little stone that Demetra guards day by day with her maternal eyes.
The gypsum-sulphur plateau was caused by the Messinian crisis, when, about 7 million years ago, the Tetid ocean began its great regression. The chemical sedimentation of the salt formed a very large deposit of several salts, in which the gypsum deposit is the most important. The Erei hills, from their highest peaks, of a flyschioid formation, and a fantastic morphology sculptured by erosion, lay as steps of large portions of "Marne" (clay), chalks, and trubi, and are sometimes covered by cal-carenitic plateaus, with cuestas frequently collapsed to their sides. In this country, since the ancient of times, the miners have opened galleries in search of sulphur minerals.
This landscape was an important extraction site from the prehistoric ages. Here man began to differentiate the salt rocks of natrium clorure from the potassic salts. Certainly from Minoan - Mycenaean ages, the inhabitants of this part of Sicily, exported sulphur tables to the rest of the Mediterranean sea as recent archaeological research in Monte Grande and Milena now demonstrate. The Romans condemned the ancient Christian people "ad metalla" in the central part of Sicily and several hundreds of slaves died in this land from the 1st to the Vth centuries A.C.
In the modern age, geological and mineralogical research began to open mines in deep stratification of the sulphur plateau and the Sicily become the first producer of sulphur minerals in the world. With the collapse of the Sicilian sulphur market and the gradual dismantling of the Sicilian Mining Company (EMS), the mining complexes were abandoned and nowadays it looks as if the workers, the "carusi" of the past, had run away just a few hours ago, leaving on the ground heaps of raw minerals, tools, pay books, cars and underground equipment. Only the potassic salts mining sites (Pasquasia, Corvillo) survived into the '80s, but with the introduction of Ukrainian salts in the occidental market, these closed too. The park, which manages these important sites, is formed by nine towns and contains four natural reserves and the only mineralogic park of Sicily.
Contact

DRQCS Rocca di Cerere Geopark
c/o Soc. cons . a r.l. Rocca di Cerere
Piazza Garibaldi, 1 – 94100 Enna
ITALY

Tel:+390935504717
Fax:+390935504717
Website: http://www.roccadicerere.eu
e-mail: distretto@roccadicerere.eu
Francesco Chiaramonte: chiaramonte@roccadicerere.eu