Source :
European Geoparks Network
Published :
June 12, 2015
Immerse yourself in the Sobrarbe Geopark, accompanied by expert guides*
Sobrarbe Geopark offers you the possibility of knowing it in detail through 15 tours,walking on foot 10 of the Geo-Routes, accompanied by trainees of the Course of Geological Heritage Guide of Sobrarbe 2014-2015, who have received a formation of 110hours. They are all great connoisseurs of the territory and passionate about the world of geology. They will transmit all their knowledge and will help you to understand the landscape you observe and to imagine how millions of years it was.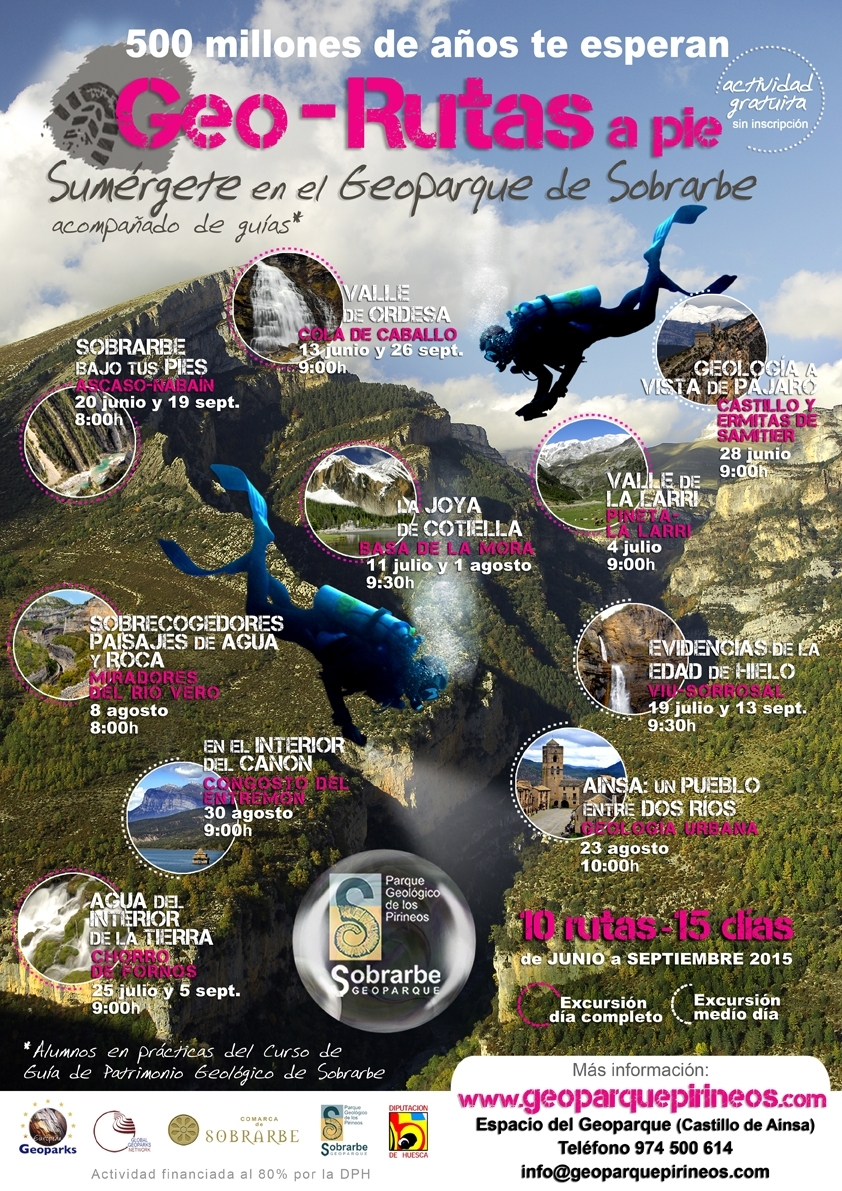 "Dive into the Sobrarbe Geopark" is an activity aimed at all audiences. It is not necessary to have previous knowledge of geology. The guides who will accompany you will make each Geo-Route in a magical journey to footprints of the seabed and the tropical seas of the more remote past of Sobrarbe, to the traces of the Ice Age and glaciers. They will make you discover numerous fossils, samples of some of the living beings that inhabited these territories, mountain ranges that were formed and were eroded, layers that fold, the past and present of the rivers in Sobrarbe …. Let yourself go and dive intoSobrarbe!
These Geo-trails allow you to discover not only the most beautiful corners of the Sobrarbe Geopark and interpret its landscapes, but also deepen its long geological history, which dates back over 500 million years.
It is a free activity. No pre-registration required, just have to go to the time and meeting point indicated for each output, which you will find detailed in the file for each one of the Geo-Routes, where guides will be waiting.
We propose routes full day or half a day, of varying difficulty and theme, so nearly allaudiences will find a tour to suit you. We recommend always study the sheet of the outputand value their difficulty.
Important: wear suitable shoes, enough food and water, warm clothes and rain and sunprotection.
For any questions please contact us:
Geopark Space at Castle Aínsa
Tel: 974 500 614 – 974 500 512 (Regional Tourist Office)

email: info@geoparquepirineos.com
See more in: http://www.geoparquepirineos.com/contenidos.php?niv=1&cla=_2OA1CDG68&cla2=_4D80LGETW&cla3=&tip=2&pla=&idi=1