Geopark Sierras Subbéticas Natural Park celebrates its 9th European Geoparks Week from April 23 to May 19, with a wide range of original and diverse activities taking place both in nature and in the villages of the Geopark: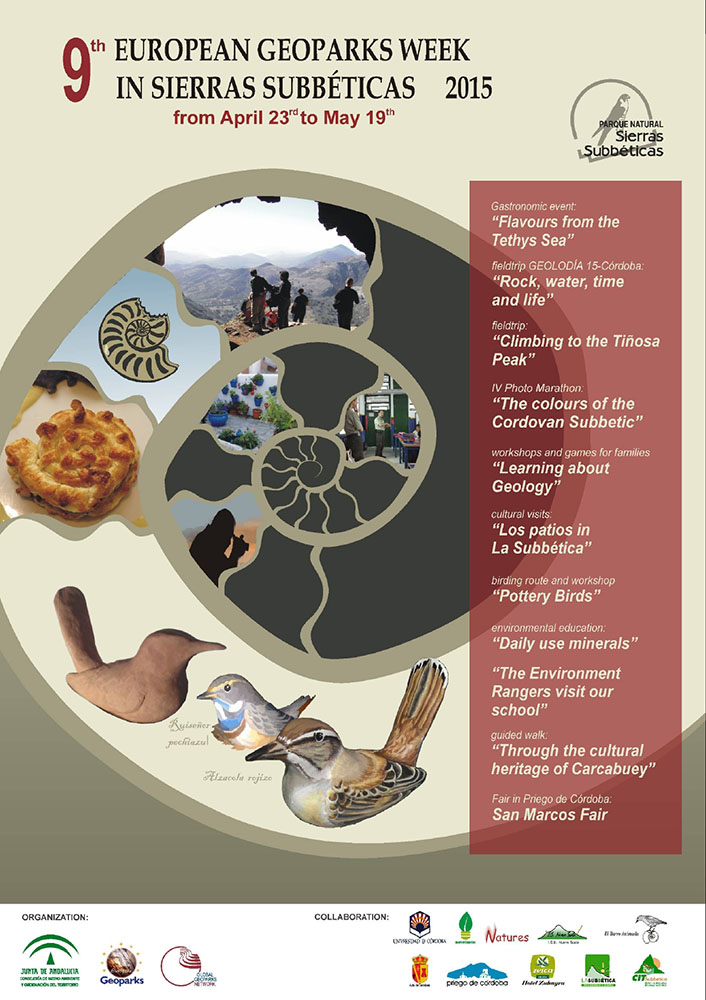 -"Flavours from the Tethys Sea" a gastronomic journey in Zuheros (hotel Zuhayra) that offers a tasty menu inspired on the Tethys Sea, the ancient sea where the Sierras Subbéticas rocks were born. During this activity the menu and its links with the Geopark will be explained, tasting dishes like "Dinosaur Bites," "Puff pastry ammonites stuffed with mushrooms and Iberian pork", "goat cheese crinoids" or "stuffed belemnites", and some more surprises.
-"Pottery Birds", an original ornithological path through the Mycological Garden "The Truffle"(Priego de Córdoba) mainly aimed at families and lovers of nature and craftsmanship. In various habitats of the garden several pottery birds corresponding to real species present in Sierras Subbéticas and made by the association "El Barro Animado" will be exhibited and explained. Subsequently, a workshop will be offered to model and to paint clay birds.
Many other activities like a geo-fieldtrip to "La Tiñosa Peak", the highest summit in the province of Córdoba; "Learning about Geology", a workshop and games for families; "Water, life, rock and time", the Geolo-day of the province of Cordova, a fieldtrip guided by geologists, which takes place in all provinces of Spain during the same weekend; "The colours of the Cordovan Subbéticas", a Photo Marathon; "Through the Cultural Heritage of Carcabuey", a cultural walk through the small white village of Carcabuey; organised routes to visit taditional courtyards of Subbéticas villages; "San Marcos Popular Fair of Priego de Córdoba"; Environmental education activities like "Daily use minerals" or the "Environment Rangers visit our school"…
There are many reasons to visit the Sierras Subbéticas Geopark this spring. After the April rains Sierras Subbéticas Geopark shows awesome beauty. The European Geoparks Week is an "ideal excuse" to visit this region, and enjoy its architecture, gastronomy, music, nature, and especially, its geological heritage.
EGN Week – Program of activities