Source :
Itoigawa Global Geopark, Japan
Published :
March 27, 2015
Making use of new infrastructure for outreach to
the community and tourists
On March 14th, the Hokuriku Shinkansen Bullet Train opened as the newest shinkansen, or high speed 'bullet train' line in Japan.
The Hokuriku Shinkansen arrives in Itoigawa on a test run in August
This new high speed train line provides a direct link between Itoigawa and Tokyo, with trip times reduced to as little as 2 hours. With improved access from Tokyo, Osaka, and other major population centers, the Itoigawa Global Geopark expects to be able to reach larger audiences than ever before. With this in mind, the Itoigawa Global Geopark and the City of Itoigawa have prepared a new Information Center with the goal of engaging both the local community and visitors.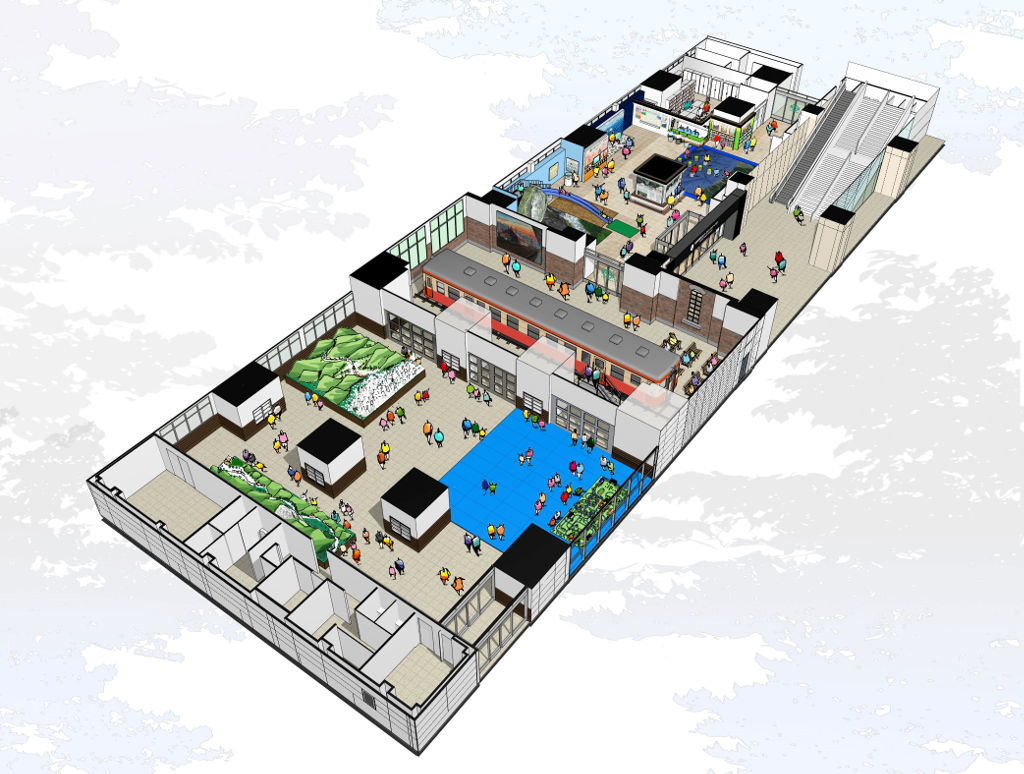 Itoigawa Geostation GeoPal
This information center, named Itoigawa Geostation GeoPal, is located inside Itoigawa's new Shinkansen Station. In order to give the people of Itoigawa early access to the facility, it was opened in February, one month before the shinkansen. The facility includes a section dedicated to promoting the Itoigawa Global Geopark.
Panels, illustrations, video displays, and interactive exhibits introduce the Itoigawa Geopark to visitors
The Geopark facility features a variety of panels and interactive exhibits which invite visitors to learn more about not only the Itoigawa Global Geopark, but Geoparks around Japan and the world. Panels on the Geopark's sea, land, rocks, and more not only describe the specific sights and features of the Itoigawa Global Geopark, but also encourage visitors to go out and explore the Geopark for themselves. Certified Geopark Guides have also assisted with the busy opening schedule, remaining on hand to answer questions or even arrange guided tours of one or more of the Itoigawa Global Geopark's 24 Geosites.
Children enjoy the play equipment and hands-on activities also available within Geostation GeoPal
The facility also features an indoor slide themed to look like the Itoigawa Global Geopark's famous Kotakigawa Jade Gorge and Mt. Myojo, both part of the Kotakigawa Jade Gorge Geosite. Next to the slide is a children's climbing wall where children can try bouldering in a safe, fun environment. By providing play equipment like these, Geostation GeoPal can become a new place for parents and children to come to play and learn together about the Itoigawa Global Geopark. With this in mind, a number of Geopark-themed events and activities are also held regularly in the facility for children and adults alike, including magatama bead sculpting, academic lectures, outdoor activity classes, and more.
Through facilities like the Geostation GeoPal, the Itoigawa Global Geopark hopes to continue its mission of local and global outreach for the purpose of promoting the conservation and appreciation of our shared geological heritage. By engaging children and parents alike, new generations are introduced to the Geopark concept and its future sustainability is secured.