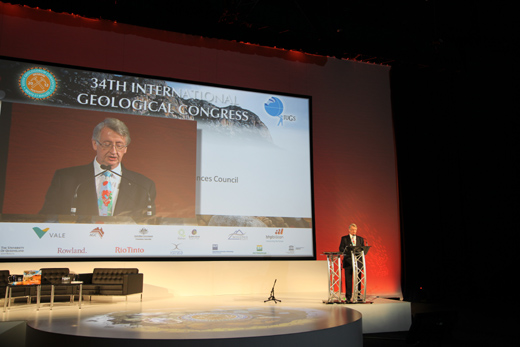 Opening Ceremony of 34th IGC
The 34th International Geological Congress (IGC) themed "Unearthing our Past and Future - Resourcing tomorrow" opened in Brisbane, Australia on 6th August, 2012. More than 5000 delegates from over 110 countries converge there to share information on meeting the environmental and resource challenges facing present and future communities.
During six days of the world's largest geological congress from 5-10 August, a range of international experts will discuss on environmental issues, energy and mineral resources exploration, natural hazards and climate change through GeoExpo, seminar, education outreach program, a support program to encourage young delegates to attend and an exciting range of pre and post Congress field trips, etc. The IGC will demonstrate the crucial role that geoscience plays in the quest for sustainable development and show how geoscience contributes directly to the future of its resource-based industries, land and water management and mitigation of geohazards.
Mr. XU Shaoshi, the minister of land and resources of P. R. China leading a strong Chinese delegation of around 400, has given a keynote speech on "Chinese geologists' mission and responsibilities of sustainable development", which attracts great attention.