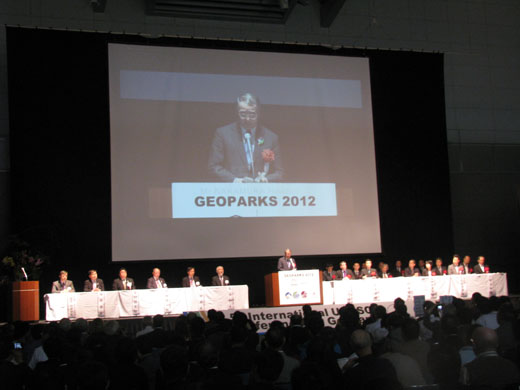 Opening Ceremony
GGN General Meeting
The 5th International UNESCO Conference on Geoparks themed "Earth Heritage and Sustainable Development" was held at Unzen Volcanic Area Global Geopark, Japan on May 12-15, 2012.
The Conference aims to foster networks and cooperation between old and new GGN members, as well as aspiring Geoparks from all over the world, On the conference, representatives from all over the world discussed on geo-heritage, geo-education and the sustainable development of local communities through sharing their experiences, exhibitions and explorations of Geoparks. Besides, this conference has also specifically focused on geo-hazards and disaster recovery in the wake of the catastrophic earthquake-tsunami that ravaged North-east Japan in March 2011. To explain geo-heritage vividly, field trips to Japanese and Korean Geoparks were organized during and after the conference. The four days conference successfully ended with the Shimabara Declaration,2012 adopted.
This is the fifth international conference on Geopaks supported by UNESCO. The conference attracts around 593 delegates from 31 countries to participate in. Previous UNESCO Conferences on Geoparks were respectively held in Beijing, China (2004); Belfast, U.K. (2006); Osnabrueck, Germany (2008); and Langkawi, Malaysia (2010). The next one will be held at Stonehammer Geopark, Canada in 2014.
Field trip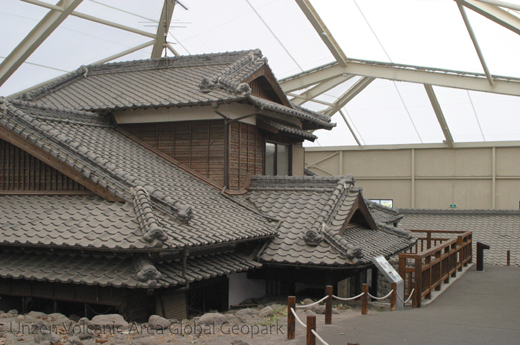 Memorial Park of Houses Destroyed by Debris Flow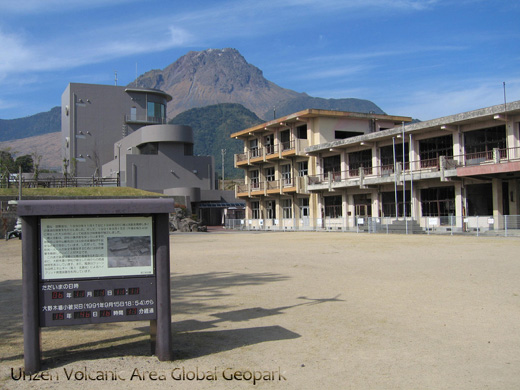 Ruins of Former Onokoba Elementary School
Annex: