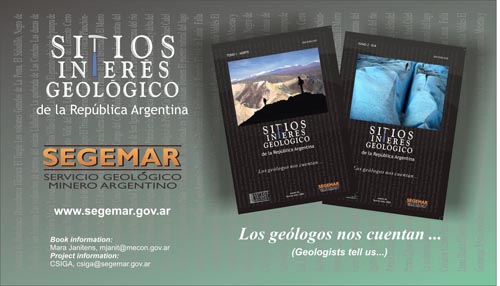 On January 2009, the Argentine Mining and Geological Survey (SEGEMAR) launched two volumes entitled "Sitios de Interés Geológico de la República Argentina" (Interesting Geological sites of Argentine Republic". The work, as a commemorative publication of the 100 anniversary of the SEGEMAR, is the result of a joint effort between this institution and more than 120 authors representing around 40 different public organizations, NGO´s, and private ones.
The two volumes, corresponding to the North and South parts of the country, are hard cover, almost 500 pages each, full color illustrated and printed in high quality paper. They include the description of 72 geological sites all over the country explaining the "how, when and why" of famous landscapes, and covering subjects like geomorphology, paleontology, volcanism, hydrogeology, tectonics, geological hazards and stratigraphy, among others. The chapters were edited by the SEGEMAR´s Working Group on Interesting Geological Sites of the República Argentina (CSIGA in Spanish), aiming not only to reach geoscientists, but in a pleasant language to a broad public. That is why each chapter (or site) is illustrated with maps, photographs, sketches and chronological charts, which facilitate the comprehension of different geological topics and processes, emphasizing the site's importance from the geological point of view. Besides that, in some of the chapters, protection measurements are suggested and new ones are proposed where protection is already being implemented. Connections between geology and topics such as anthropology, history of pioneer exploration, mining activity, scientific research and wildlife enhanced some of the chapters. The volumes are written in Spanish, including an introductory abstract in English.
The publication of this work is the first step in the development of a broader project that comprises cataloguing of interesting geological sites, promotion and protection of natural and cultural heritage and geology popularization. In order to achieve these objectives, activities are programmed which include "in situ" explanatory signs in emblematic places of the country for geological science popularization (under execution) and publication of geological guides of tourist places and circuits are being (geotourism) considered.
The project was awarded with the first prize -governmental institution category- by the "Organización del Convenio Andrés Bello", an international organization for the educational, scientific, technological and cultural integration, among 235 other presentations. Funds from the prize will be applied for the continuity of the project.
Book information: Mara Janitens, mjanit@mecon.gov.ar
Project information: csiga@segemar.gov.ar