Horse-back trekking
"Three days of discovery of mining landscapes in an enchanted natural setting"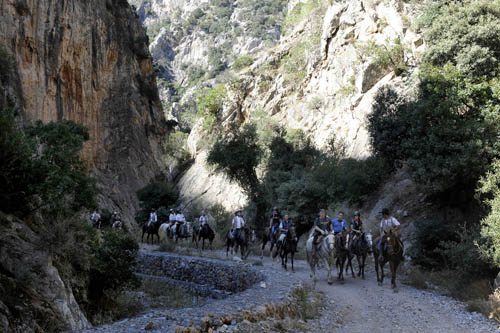 A journey full of visual emotions and trips through history. An itinerary through new forms of landscape, natural monuments, geological and mining sites with unusual characteristics of great effect, and at the same time of considerable cultural significance. The programme offered the chance to repeat the unforgettable experience of trekking on horse-back with an itinerary in three stages combining the pleasures of sport, of traditional cuisine in geological and mining landscapes in a totally natural setting.
The initiative aimed to exploit the geographical context through the love that many people feel for horses and horse-riding and with an activity that combines perfectly with the harmony of the natural environment. The itinerary could be used not only for horse-trekking but also for walkers and cyclists, with the possibility of promoting similar initiatives of a sporting-environmental nature that would fit into the aims of the Park.
Nature, environment, culture and physical activity in the open air represent the guide lines inspiring the philosophy of the initiatives of the park, achieving a true integration of culture and environment and a recovery of the historical memory of the mines and the entire area.