Global Geoparks Mt. Lushan (PR China) and Bergstrasse-Odenwald (Germany) inaugurate common rock sculpture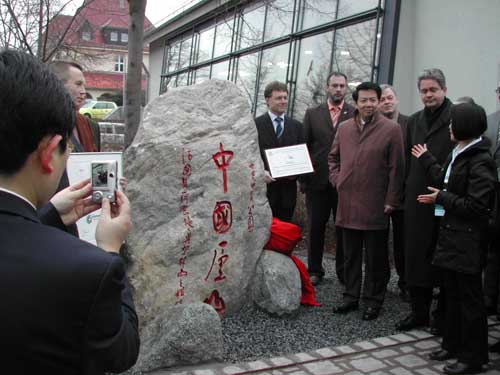 friendship rock unveiling ceremony


During their one week visit of their partner Geopark Bergstrasse-Odenwald (Germany), the delegation of Mt. Lushan (PR China), headed by director Zheng Xiang, learned to know how their German colleagues manage and develop their Geopark territory. Accompined by a delegation from the Global Geopark Zhangjiajie, they attended a Geopark workshop, which dealt with the topics management, visitor service, infrastructure, geo-education and cooperation partners of the Geopark Bergstrasse-Odenwald. Both Geoparks were invited by the Hessian Ministry of Economy in the frame of State and province partnership activities. In this context, Geoparks become more and more prominent partners for economic development activities of the Government, because they built the bridge to culture and nature, which is substantiated in several sustainable approaches.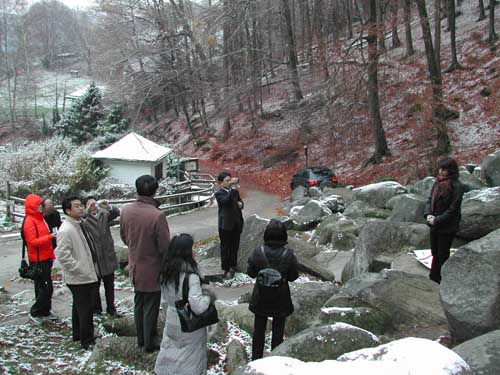 The two delegations from Mt. Lushan and Zhangjiajie (PR China) visited the Felsenmeer,
a prominent geotope and cultural site in the Geoaprk Bergstrasse-Odenwald


The delegation from Mt. Lushan brought a very special present - a 3.4 ton, 2.2 m high crystalline rock - with German and Chinese sayings on both sides. "Beyond time and space in friendship strongly connected" is a promise and a commitment for both partners, who started their cooperation activities in 2006.
The rock is accompined by a panel with information about the Geopark Mt. Lushan as place of spectacular Earth heritage, culture, inspiration and poetry, and additional aspects of the partnership in three languages: Chinese, German and English.
"This poetic rock gives the place an authentic charisma and symbolizes a piece of home for all Chinese guests, we would like to warmly welcome here in our territory", said Matthias Wilkes, chairman of the Geopark Bergstrasse-Odenwald concerning this special gift. And Zheng Xiang, director of Mt. Lushan added, that "the solidity of the rock stands fort he strength, continuity and power of the partnership".
The unveiling ceremony took place during the Annual Geopark Member Conference with more than 100 mayors, the Geopark executive board and members of the Hessian State Government.
During the visit, both partners developed the next steps of cooperation, which include the development of common exhibitions in three languages, the implementation of tourism activities, as well as the integration of the International Forest Art Association into the further activities.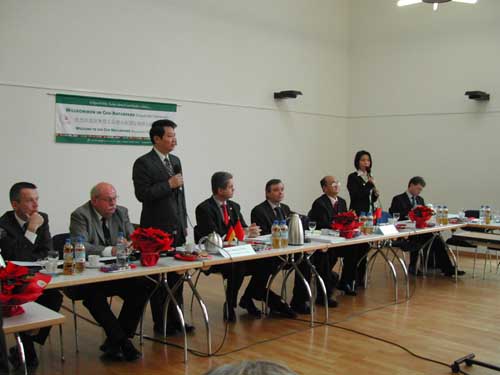 For the first time, Zheng Xiang, director of Global Geopark Mt. Lushan gave a speech
in an Annual Member Conference of the Geopark Bergstasse-Odenwald


Both Geoparks consider this partnership as fruitful, innovative and promising, and are looking forward to implement their next steps of cooperation during 2009.
Related to the main UNESCO Global Geopark tasks of "conservation, education and tourism", this Geopark partnership is considered as an impressive example how networking can become vivid and alive across the world.