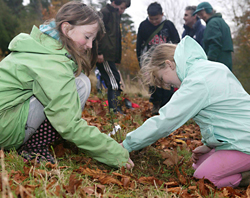 Children at Middleton-in-Teesdale Primary School were putting the finishing touches on a year-long Living North Pennines project when they helped plant out a new woodland area of native broadleaf trees.
The Year 6 class of 10-11 year-olds have been involved in the Woodland Magic and Mystery education project, specially designed to capture children's imagination and help them learn about the importance of trees and woodlands to the North Pennines landscape at the same time.
Living North Pennines is a three year initiative being run by the North Pennines AONB Partnership with more than £2m from the Heritage Lottery Fund which will enable more people to learn about and enjoy the area's special qualities.
During the year, the children have visited different kinds of woodlands, including the juniper woods at Moor House - Upper Teesdale National Nature Reserve, and Hamsterley Forest to see commercial tree felling operations how the work used to be using just a chainsaw.
In July they paid their first visit to Whistle Crag between Middleton and Eggleston to see traditional heavy horse Ouragon and his owner Chris Wadsworth clearing the felled logs from a coniferous plantation to make space for new native broadleaf trees.
Following an afternoon collecting acorns last month where they planted their finds in pots, the children have now rounded the project off by helping to plant out a range of tree varieties including oak, birch, crab apple, willow, rowan and ash.
Emma Boor, Living North Pennines' Education Officer said: "It's been a thrilling journey for the children, finding out about all the stages of a tree's life, and seeing their importance in the environment as well as for wildlife and people.
"They've also been involved with lots of creative arts activities in which they've been able to express their thoughts and feelings about trees and the world around them. And now they have completed the process by planting young trees which they - and future generations - will be able to see growing in the years to come."
Emma added that Woodland Magic and Mystery had been run as a pilot programme with Middleton-in-Teesdale Primary School to develop an exciting and practical learning resource which will be available to other schools both in the North Pennines area and further afield.