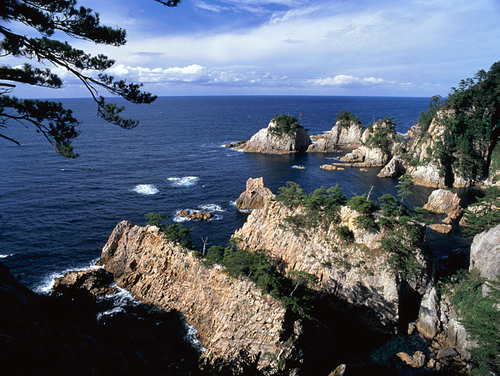 The Japan Geopark Committee has awarded its first 'Japanese Geopark' label to seven regions, including the San'in Coast (photo) in western Japan. The designation is given to areas where characteristic geological structures, including topography and strata, can be observed. The designated regions will be allowed to call themselves 'Geoparks' and join the 'Japan Geopark Network'(JGN) to be established in February 2009. The regions will promote educational and research activities relating to earth science and environmental issues as well as engage in regional promotion work, including in the field of tourism.
On the San'in shoreline along the Japan Sea, stretching from Tottori to Hyogo to Kyoto prefectures, rocks and strata formed by volcanic activities are visible. These activities caused what is now the Japanese archipelago to break off from the Asian continent 15 million to 25 million years ago to form the Japan Sea. The contrast between dunes/sandbars, including the famed Tottori dunes, and dynamic cliffs eroded by the sea is also an attraction. The area has a wide variety of geological features and bears testimony to the dynamic processes involved in the birth of this archipelago.
The JGN is a domestic version of the Global Geoparks Network, established with the support of UNESCO. From fiscal 2009 starting next April 1, domestic candidate sites for Global Geopark designation will be selected from among the regions on the JGN list. The San'in Coast will try again to obtain the Global Geopark label.

For inquiries, please contact Secretariat, Japan Geopark Committee (Tel: 029-861-3687; URL: http://www.gsj.jp/jgc/).