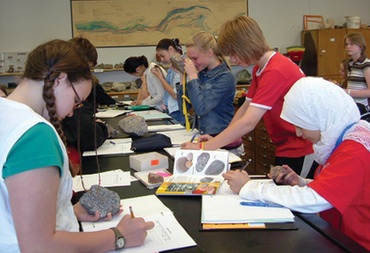 Students in the earth sciences enrichment mini-course program try their hand at identifying rock.
The samples in the rock kit are collected by professors and students during field work for Beth Halfkenny's outreach program


In a country with a resource-intensive economic base, it makes sense for Canadians to understand the basic geological processes that gave us oil sands, coal deposits, diamonds, rich agricultural lands, and lake upon lake upon lake. Yet earth sciences play only a minor role in elementary and secondary school education, leaving many students to stumble upon it in university.
For Beth Halfkenny, curator and geological technician for the department of earth sciences, this just won't do. Halfkenny spearheads the department's active outreach program to increase awareness of the earth sciences and support educators seeking to bring it into the classroom.
"Earth sciences is a way to observe the world around you and open your eyes to what you're already seeing," says Halfkenny. "We try to create opportunities in schools to talk about the field and increase the reach of science."
Administered by enthusiastic undergraduate and graduate students, staff and faculty, the outreach program takes a "what can we do for you?" approach. By providing resources, samples and subject experts, the program enhances existing courses, trains teachers, and creates a community of educators.
"We're a conduit for information—teachers don't need to find things on their own," says Halfkenny. "I want people to know that we're here and we're willing to help."
Among the services provided by the outreach program are courses in the university's enrichment mini-course program for high school students; a half-day campus visit for Grade 12 earth and space sciences classes to attend a lecture, tour the facilities and participate in a laboratory activity; and prepared activities for teachers or visiting experts to use in the classroom on mineral identification, radioisotopic dating, dinosaur footprints, mining, crystal growing and more. All the activities are designed to be hands on, giving students the opportunity to investigate and discover for themselves.
A three-day interactive workshop for high school teachers each spring is proving to be a popular offering. Designed to provide support for the secondary earth sciences curriculum, the workshop introduces teachers to current geological issues, provides hands-on methods, and introduces possible field trip destinations in the Ottawa area.
"The workshop helped to clarify some of the issues I had been struggling to find ways to share with my students," says Sean Clark, a Grade 12 teacher at Sacred Heart High School in Stittsville, Ont. "It gave me a wealth of resources, both tangible and theoretical, that I could bring directly into my classroom."
For teachers new to the earth and space sciences course, the workshop can help them get up to speed. "As this is a course new to my school, I had no teaching resources whatsoever—the workshop provided me with ample supplies to get rolling," says Karen McGaffey of Donald A. Wilson Secondary School in Whitby, Ont. "All the instructors were extremely helpful, and presented their content at a level just high enough above what high school teachers need to cover to give us the confidence to deliver a quality program to our own students."
Not restricted to school groups, the outreach program is also available to the community. In October, to celebrate International Year of Planet Earth and National Science and Technology Week, Halfkenny organized a field day, Explore Geoheritage Day, for the public to learn about Ottawa's geological heritage. She has done sessions with junior naturalist clubs and seniors groups.
"I always say yes to requests, and then figure out how to do it," says Halfkenny. "Outreach is a positive pursuit."