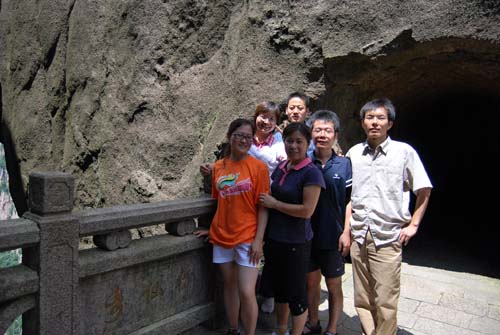 4 geological master graduates were recruited openly for Huangshan Geopark in July, 2008 in order to strengthen its scientific research, optimize the structure of its management team and improve the overall quality and level of its management. These four graduates come from Peking University, China University of Geosciences (Wuhan) and China University of Geosciences (Beijing) respectively.
Leaders of the Huangshan Management Committee paid high attention to this recruitment of geological professionals. On July 2, all members of the CCP (Chinese Communist Party) Commission of the Huangshan Management Committee under the leadership of Cheng Yingfeng ---- the member of Standing Commission of Huangshan Municipal Committee and the secretary and deputy director of the Huangshan Management Committee ---- attended the interview of candidates who passed through the previous survey and observation. These new recruitees started their work duly after a series of procedures of open recruitment.
On July 26, leaders of the Planning and Land Sector and the Geopark Management Office had a communication symposium with these freshmen and also analyzed the current situation of Huangshan Geopark. Plus, leaders raised requirements for their future work in Huangshan Geopark, especially geological research work.
To date, they had investigated and studied their own concerns of Huangshan Geopark such as granite physiognomy, glacier heritage, water landscape, distribution of biological resources and trails and submitted the corresponding reports of their investigation and study.
Joining of four graduates will absolutely make the geoconservation, granite study, education, promotion and museum construction more effective in the Geopark.