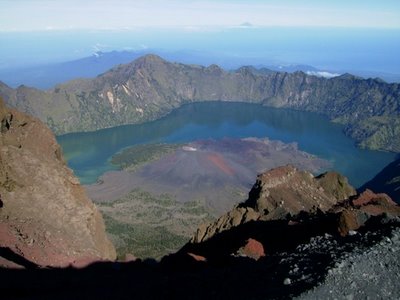 The government has proposed to UNESCO that Mount Rinjani, Lombok Island, West Nusa Tenggara, be one of the world's geoparks under its auspices, subsequently becoming the first geopark in Indonesia.
"The proposal is being discussed at the Forestry Ministry and Culture and Tourism Ministry and will then be handed over to the UN Educational, Scientific and Cultural Organization (UNESCO)," Mount Rinjani National Park Center head Arief Toengkagie told The Jakarta Post recently.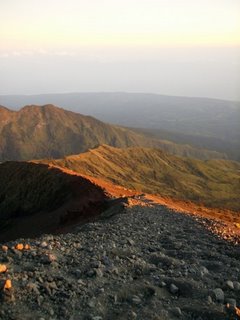 There are 57 geoparks around the world located in 18 countries. One of them is in Southeast Asia -- Langkawi Island in Malaysia. Rinjani would become the first designated geopark in Indonesia.
Arief said Mount Rinjani, at 3,726 meters above sea level, should become a geopark given its natural beauty and unique geology -- such as the Segara Anak Lake, situated 2,000 meters above sea level and its crater, hot springs, waterfall and the formation of a new mount within a caldera named Baru Jadi.
"Domestic and foreign visitors have so far shown a keen interest in visiting the area, especially for mountain climbing. The status as a geopark will be very beneficial in enhancing its overseas promotion campaigns," he said.
Besides its potential as a geopark, the flora, fauna and local culture of communities living around the area also adds to its allure.
For example, the culture of the traditional village of Senaru, located at one of the trail entrances on Mount Rinjani, has been preserved for centuries. Tourists can also visit the Wetu Telu Muslim community complex and the Hindu Ngulam Pakelem ritual at Segara Anak Lake, held every six months.
Mountain climbing supervision is uniquely managed by the local community, called the Rinjani Trek Management Board (RTMB). It is made up of members from the local administration, tour operators and the local community. RTMB previously won the 2004 World Legacy Award, organized by Conservation International and National Geographic Traveler Magazine. Rinjani was also a finalist for the Tourism for Tomorrow Award in 2005 and 2008.
"The awards have been presented for our ability to conserve nature and to improve the local people's welfare," Arief said.
The national park comprises around 40,330 hectares and administratively encompasses West Lombok, Central Lombok and East Lombok regencies.
As an entity, Mount Rinjani is one of the province's prime tourist destinations. It is the second tallest active volcano in Indonesia after Sumatra's Mount Kerinci (3,800 meters). It last erupted in 2004.
Based on studies, Mount Rinjani has erupted several times on a large scale. The series of eruptions eventually formed the Mount Rinjani National Park, which has a morphology rich in rock formations and naturally forms an impressive landscape, besides functioning as a catchment area.
So far this year the park center has recorded 2,800 foreign and 3,100 domestic visitors who scaled the mountain between March and August and registered at three official routes -- Senaru and Tembilo in West Lombok and Sembalu in East Lombok.
"Our target is 5,000 foreign climbers before the end of September provided the weather is favorable, an increase from last year's figure of 4,500," Arief said. Most of the foreign visitors come from various European and Asian countries as well as Australia.
According to Arief, the proposal to designate Rinjani a geopark is a follow up to a 2007 proposal to UNESCO to turn it into a World Heritage Site.
"A World Heritage Site has several categories, one of them being the geopark. Becoming a world icon as a dedicated UNESCO geopark would help preserve Rinjani because everyone would be responsible and work together to conserve the area."