1st - 5th October 2008, Rab Island, Croatia

The Organizing Committee, on behalf of the ProGEO-Croatia and the ProGEO European Association for the Conservation of the Geological Heritage, has the pleasure to welcome all professionals and students whose work/research is dedicated or related to Nature conservation, geoparks, geotourism, life-learning programs, education, management, sustainable development, land-use planning and decision-making to participate in the 5th International Symposium on Conservation of the Geological Heritage. The Symposium will take place in the city of Rab, on the Rab Island in northeastern Adriatic Sea. Croatia. October 1st-5th 2008.
CONFERENCE VENUE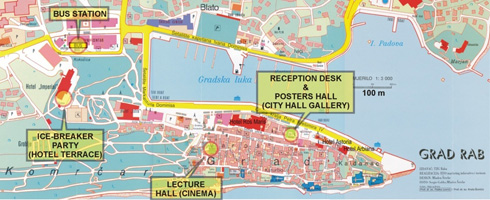 The Organizing committee is thankfull to all participants who registered and made their payments early and before the major deadline, enabling us to be operational and in time schedule with organization.

LATE REGISTRATIONS AND CONTRIBUTIONS
Nevertheless, we encourage and invite all the others, who may have been in lack of time, to register as soon as possible and contribute to the goals of the Symposium. For all of you there is extended deadline untill June 15th to submit abstracts.

Therefore, dear colleagues geologists, students in geosciences, nature/geo-conservationists, touristic workers, educators, managers, planners and decission makers, you are welcome to participate and make this Symposium even more successful by shareing your knowledge, experiences and needs within the ProGEO worldwide community.

EXCURSIONS
There are still free places for all excursions. Excursions 2A, 2B, 4A and 4B already have the minimum number to go. We invite you to join the other destinations and see some beautiful geology, nature and culture (minimum 10 participants). Extended deadline June 15th.



Under patronage of
• Republic of Croatia Ministry of Culture / Republika Hrvatska Ministarstvo kulture
• Croatian Commission for UNESCO / Hrvatsko povjerenstvo za UNESCO

Coorganizers
• State Institute for Nature Protection / Državni zavod za zaštitu prirode

• Municipality of Rab / Grad Rab
• Municipality of Lopar / Zajednica općine Lopar

• Turistička zajednica grada Raba
• Turistička zajednica općine Lopar
Supporting institutions
• Global Geoparks Network
• European Geoparks Network
• Geopark Papuk


Second Circular - download: ( PDF 3.7mb)