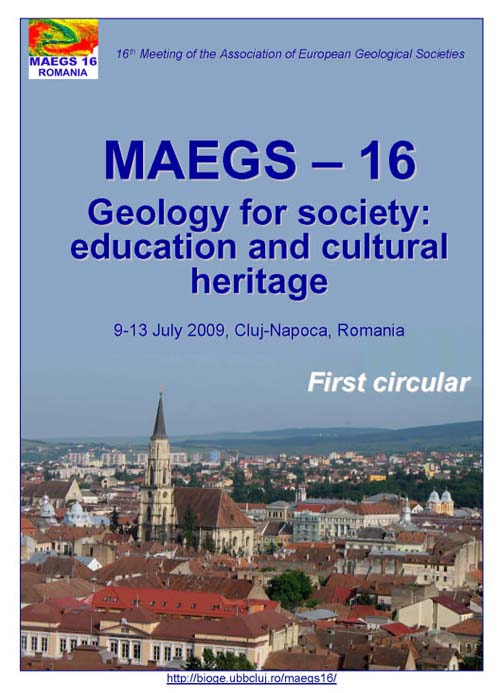 Dear colleagues,
The Association of European Geological Societies (AEGS) and the Geological Society of Romania (GSR) cordially invite you to join the 16th Meeting of the Association (MAEGS-16) and the Annual Meeting of the Romanian Geological Society which will be held between 9 to 13 July 2009, in Cluj-Napoca - the heart of Transylvania (Romania).
The AEGS is an international organisation promoting all fields of geosciences, and is supported by subscriptions from 30 national geological societies from Europe, with the General Assemblage held every two years in one of the subscribing countries.
The aim of MAEGS-16 is to bring together geoscientists and the representatives of the society to discuss recent progress and future trends. Thus, the following topics will play a major role: EDUCATION IN GEOLOGY and GEOLOGY AND CULTURAL HERITAGE.
During MAEGS-16, the Percival Allen Medal award will be given to a geoscientist for outstanding achievements in the field of international relations in Earth Science.
We whole heartedly look forward to meet you in Cluj-Napoca at MAEGS-16, which will provide you with outstanding scientific information and an opportunity to interact with many colleagues in an excellent environment.
With our best wishes,
Prof.Dr. Corina Ionescu
President of AEGS
Dr. Antoneta Seghedi
President of GSR

First circular - download( pdf)

poster- download( pdf)

registration form- download( pdf)