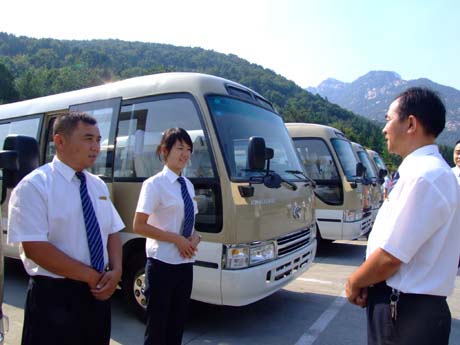 Service of drivers and stewards is normalized

TaiAn Municipal Government released the Regulations for Close Running of Vehicles in Taishan Global Geopark, TaiAn (Trial) on Aug.18 in order to make the tourist transport safer in Taishan Scenic Area, protect the environment there and enlarge the sightseeing space. The close running of vehicles was put into practice officially in Taishan on Sept.1.
Since the system of Taishan Geopark was adjusted, environmental programmes have been undertaken, following "conservation, enjoyment and succession of heritage". Such new attractions as Longtan (Dragon Pond) Park, Huangxihe (Huangxi River) Reservoir, Caishi (Colored Rock) Brook, Taohuayu (Peachblossom Valley) Water System, Wild Chilin Fish Sight, Educational Botanical Garden and Baiyangfang Tourist Base have come forth in response to new construction ideas. These emerging attractions are worth a thousand words.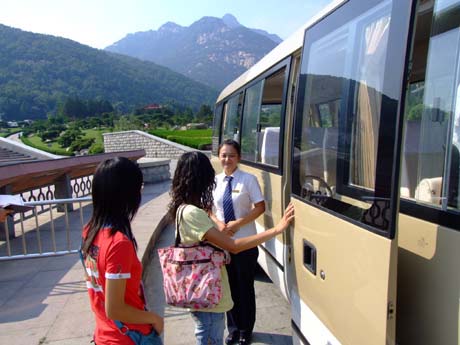 Tourists get on the dedicated sightseeing bus merrily

When the close running was not brought into effect, a tourist could only arrive at the terminus directly without a stop on the way by taking the sightseeing bus through Taiwaicun (Tianwai Village) Route (Tianwaicun Square - Zhongtianmen Parking Lot) or Taohuayu Route (Taohuayu Parking Lot - Taohuayuan Parking Lot). This is not real "sightseeing" but just "hurried tour" in a strict sense, so attractions on the way exist in name only and precious tourism resources are out of use. The close running, however, has changed this situation. Now, a tourist can get off anywhere at his will. More freedom stimulates his interest in sightseeing. Beyond question, tourists are direct beneficiaries of the close running.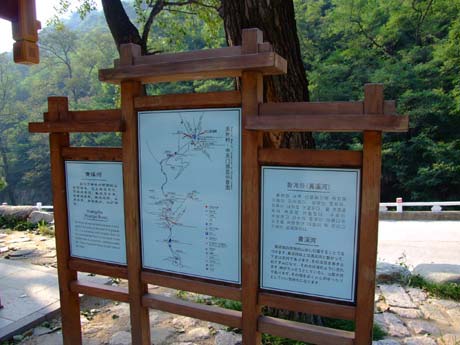 New explanatory panels in Chinese, English, Japanese and Korean

The close running is also a warranty of environmental protection in this scenic area. In the past, exhausts and noises from the in-and-out vehicles with different exhausts and fuels polluted roads, forest, cultural relics and atmosphere awfully and even affected the conservation and sustainability of heritage resources strongly. This infringed the tenet of eco-civilization construction. After the closing running took effect, some commercial passenger vehicles, working vehicles, common vehicles, personal vehicles, military vehicles and other vehicles were prohibited from entering the area of close running. But the emergency vehicles, e.g. 110, 119, 120 and 122, could run into the scenic area directly for task. Moreover, prohibiting social vehicles from entering is essential to ensure tourists' security.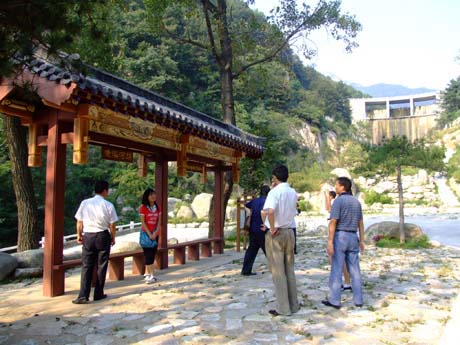 Tourists are waiting for a bus