Volcano house Strohn with volcano-cafe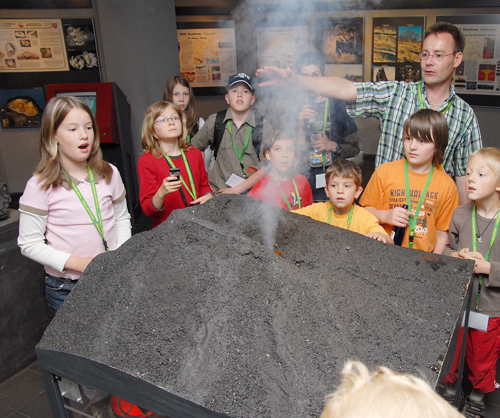 Eifel volcano museum Daun

The Vulkaneifel shows a multitude of natural phenomena that are unique in form and of much interest for research. Current research projects continue to provide new findings, but also new questions. The GEO museums in the Vulkaneifel are collection and information places for this thrilling conflict of creation, change and destruction. They are the key to understanding this fascinating landscape and its history. Each museum has its focal areas and is dedicated to the corresponding geological aspects as well as to the natural aspects, the history, culture and technical specialties of the Vulkaneifel.
The joint learning concept is based on
understanding through experience.
Seeing, feeling, smelling, hearing - the complex relationships become part of your sensual experience. The target group is very wide, and even those with a scientific background will learn something new. Children and teenagers will be introduced to the topics in a playful way, having fun. In many cases, the museums offer accompanying or enhancing events. These include guided tours through museums, excursions, workshops, lectures, exhibitions and children's and school programmes.