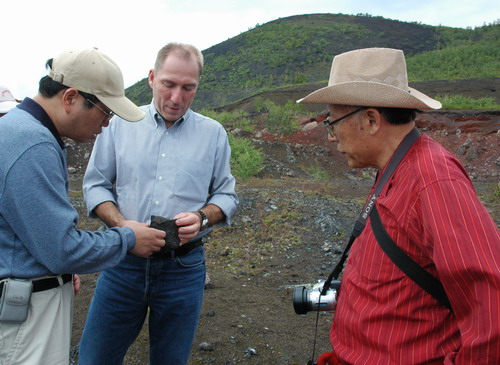 Mr. Andreas Schueller, who is from Vulkaneifel Geopark - Germany, on behalf of UNESCO, revaluated Wudalianchi Geopark in the period Aug.27-30.
A special reporting conference on UNESCO's Wudalianchi Geopark revaluation was convoked during this 3-day "revaluation" inspection. In the conference, Andreas Schueller listened to the multimedia report on Wudalianchi Geopark carefully, exchanging ideas about the development and construction of Wudalianchi Geopark and reviewing the materials related to Wudalianchi Geopark. Following the reporting conference, the experts' team explored the museum, the latter volcanic geology sightseeing area, the ancient volcanic rock pond, the underground karst cave and other geoheritage sites in Wudalianchi Geopark.
In addition, Mr. Andreas Schueller inspected such scientific research units and enterprises in the Geopark as Volcanoes Monitoring Station, Research Institute for Mineral Springs, Xianchi Water Factory and Nibao Company. Moreover, he got to know the international tourists receiving conditions and general service competency of the Geopark through a field investigation on its visitor center, monitoring center, provincial worker's sanitarium and other places.
It is said that Wudalianchi was designated as one member of GGN by UNESCO in 2004. Pursuant to the UNESCO's management provisions on global geoparks, the UNESCO should revaluate each member of the GGN every 4 years.