Tourists streamed into Mount Lushan in midsummer. Mount Lushan welcomed its busy season. In the period Aug 22-23, The School of Environmental Sciences of China University of Geosciences (Wuhan) and the Lushan Bureau of Land and Resources co-organized an activity of "delivering education, science and hygiene to the countryside" in the street crossing center garden, Guling, Lushan. The theme of this activity was "entering, understanding and protecting nature".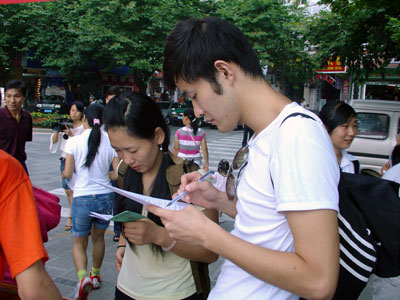 During this activity, the general situation of rare endangered flora and fauna in Mount Lushan was presented to tourists and local residents and they were encouraged to enter and understand nature and consciously protect nature by making posters, volunteering guide services, lecturing in the open air, answering questions on the site, distributing the Guide to Ecotourism in Mount Lushan free of charge and other means. The awareness of environmental protection of tourists and local residents was also be analyzed through questionnaires. Moreover, the advantages of the School of Environmental Sciences of China University of Geosciences and the specialty characteristics of the Biology Department were brought into full play so that valuable original data were offered for the management and development of this scenic area.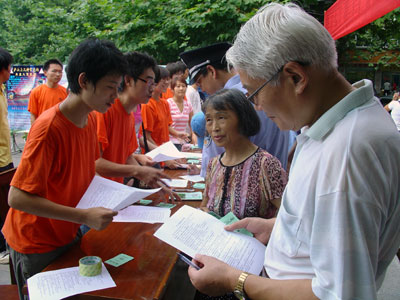 45 undergraduates from China University of Geosciences actively investigated the rare and invasive species in Mount Lushan, focusing on the survey of ecological conditions in Mount Lushan when they had their practice in Mount Lushan in their summer holiday. Their programmes centered on the environmental education and the dissemination of natural knowledge, which highlighted the theme of this promotional activity.
Sweating under the blazing sun, these undergraduates made a due contribution towards the protection of eco-environment and the harmony between human and nature in Mount Lushan.