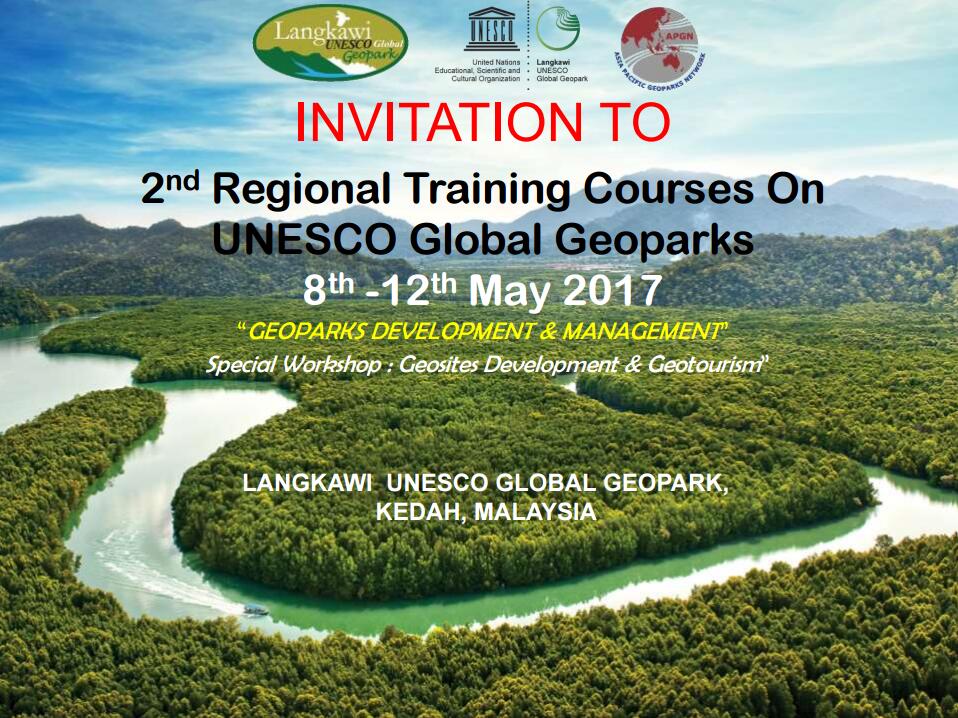 "GEOPARKS DEVELOPMENT & MANAGEMENT"
with Special Workshop on Geosites Development & Geotourism
Venue: LANGKAWI UNESCO GLOBAL GEOPARK,
KEDAH, MALAYSIA
Date: 8th -12th May 2017
Background
The concept of Sustainable Development championed by the Global Geoparks Network (GGN) is proven to be one of the most successful models in sustainable regional development. Tailing form the increasing number of Global Geoparks, there is a need to ensure that the true GGN concept of sustainable development is cascaded down to the geopark managers/administrators. This certainly will increase sustainability of a Geopark, but this is a huge task for Geopark managers.
Hence, there is a pressing need to connect all the Geopark Managers in this region to share their experience, challenges, and best practices in steering their respective Geoparks towards achieving sustainable development goal vision by the Geopark Concept.
Tentative Programmes
The contents of the workshop will be delivered through lectures by GGN Experts, sharing, discussion and presentation during workshop and field discussion.
Invited Speakers
Prof Dr Nickolas Zouros –GGN/EGN

Prof Emeritus Dato' Dr Ibrahim Komoo – GGN/APGN

Dr Mahito Watanabe – Japanese Geoparks Network

Dr Jiangping – Chinese Geoparks Network
Tentative Programme & Info: Download PDF